Wishlist successfully created
Wishlist was successfully updated
Product removed successfully from your cart.
Mccain
At McCain, we believe that good ethics is good business. These principles guide who we are, what we do, and how we achieve it. The result of this is consistently good food, simply made.
We are committed to quality from the very start of the supply chain. As the UK's largest purchaser of British potatoes we have close links to over 250 potato growers across the UK and alongside our suppliers, we are also a leading supporter of the Red Tractor Assurance Scheme. Over the past fifty years, we've built a strong presence in every UK home and the wider food industry as supplier of consistent quality products and we work in close partnership with chefs and caterers across thousands of the country's pubs, restaurants, hospitals and schools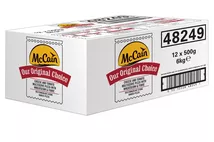 McCain Our Original Choice Multiserve Wheat Germ &a...
Pack size: 12 x 500g
Sorry! We don't stock this anymore.
This product has been discontinued from the Brakes range. Check out alternatives.
View Similar
This product is temporarily unavailable
This product is temporarily unavailable, check back soon to order later.
See Similar

Added to Your Shopping Cart